All Resources
/
eBooks
/
Thuyết trình hiệu quả: Hướng dẫn miễn phí cách nói chuyện hiệu quả trước công chúng
Thuyết trình hiệu quả: Hướng dẫn miễn phí cách nói chuyện hiệu quả trước công chúng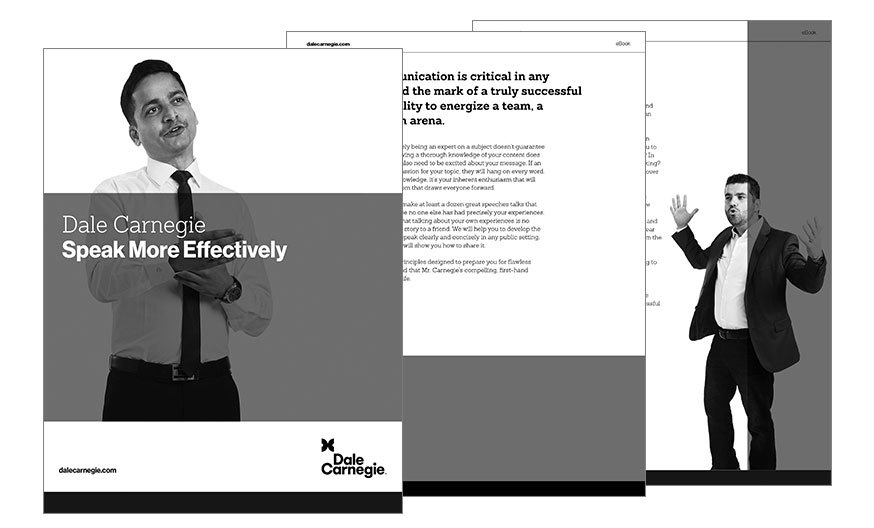 Benefit of this eBook
Giao tiếp hiệu quả là là yếu tố quan trọng trong bất kỳ vai trò nào, và dấu hiệu của một người thực sự thành công là khả năng khuấy động một nhóm, một phòng họp hay một sân vận động. Cuốn sách này cho bạn thấy rằng nói về kinh nghiệm riêng của bạn không khó khăn hơn kể một câu chuyện hay. Nó sẽ giúp bạn phát triển lòng can đảm và tự tin để nói chuyện trong bất kỳ môi trường công cộng nào.
What You'll Learn With It
Khám phá 8 nguyên tắc hướng dẫn giúp bạn chuẩn bị cho việc nói lưu loát trước công chúng. Tìm hiểu cách để loại bỏ lo lắng và nói chuyện với sự tự tin và tín nhiệm. Những câu chuyện thú vị, thiết thực của Carnegie mang lại nguyên tắc bổ ích cho cuộc sống.
Why You Need It
Cho dù bạn đang thuyết phục các đồng nghiệp, bán hàng cho khách, hay tiếp thêm sức mạnh cho một nhóm, sức mạnh thuyết trình của bạn sẽ tạo ra sự khác biệt. Mặc dù có kiến thức sâu rộng về nói dung bạn đang nói, bạn cũng cần phải tin tưởng vào thông điệp của chính mình. Nếu khán giả cảm nhận được niềm đam mê thực sự, họ sẽ tin vào từng lời nói.
What You'll Do With It
Truyền cảm hứng cho lượng khán giả lớn, giới truyền thông hoặc chỉ đơn giản là kiểm soát một cuộc họp. Truyền tải một bài thuyết trình thú vị mang lại kết quả khả quan. Hãy là đèn pin trong phòng tối soi tỏ đường cho mọi người!

Thuyết trình hiệu quả: Hướng dẫn miễn phí cách nói chuyện hiệu quả trước công chúng