Take Command to Confront Global Challenges
Does your organization need to build or scale a highly adaptable learning process cross-regionally? Partner with Dale Carnegie to immediately gain global training and development delivery capacity in multiple languages and a dedicated managed services team that streamlines your logistics.
Live online and in-person trainers that deliver in-language, in-culture
Flex from in-person to online delivery as conditions change
Achieve world-class Net Promoter Scores
Strengthen corporate culture in the hybrid workplace
Increase your resilience and agility in uncertainty
Connect with a Global Learning Services Consultant
2023 Latest White Paper for Leaders
Preparing People for Success with Generative AI
Benefit of this White Paper
A new workforce transformation is upon us. Artificial intelligence is already disrupting industries and has the potential to dramatically increase worker productivity. Learn how you can prepare your teams to transition toward AI and understand the opportunities and threats.
What You'll Learn With It
Building and maintaining a strong corporate culture has always been critical to organizational success. Organizations who prepare their employees for change and provide them with the right skills will be able to adopt and execute AI initiatives faster and more successfully.
Why You Need It
Organizations are now facing a transformational moment. Those that can transition, adapt, and execute will be able to take advantage of significant productivity increases, powered by their teams effectively using artificial intelligence.
Download Now & Let's Talk
What Dale Carnegie Global Managed Learning Services Offering Look Like
Drive Globally with a Local Touch
Gain a dedicated project management team in your language for your global initiatives
Drive enterprise programs with consistent local execution in over 80 countries and 30+ languages
Access a globally ISO-certified trainer network that delivers with credibility and cultural awareness
Flexible Managed Solutions
Scale up with flexible delivery modalities
Roll out your training program with local consistency and flexible scheduling options
Broad content and solutions tailored for your organization:

High Potential Talent Development
Frontline & Senior Leadership Training
Sales & Customer Services
Public Speaking
Executive Presence & Presentation Skills
Deep Soft Skills Course Catalog for All Levels
Customized Solutions
Assessments & Subscriptions
Leading Change: AI and the Future of Organizational Culture
Watch the Panel Talk Now
Move beyond the hype and learn how to prepare your organization and team for the changes brought by artificial intelligence.

AI is making headlines. Big investments, large forecasts of productivity gains, and predictions of a future where workers and their organizations rely increasingly on generative AI. What's missing from the headlines and predictions is how organizations are actually going to do it. The fact is that for artificial intelligence to really make an impact, organizations need employees that are empowered with the right skills and attitudes to implement. Watch for the Panel Talk now!
How Senior Leaders Engage Empowered Employees
Webinar
Watch the webinar with Dale Carnegie President & CEO Joe Hart as he shares insights from a global workplace study designed to identify the drivers of employee engagement: the role of senior leaders and how they can build a culture that supports, engages and retains their workforce.
Impact Shared by Dale Carnegie Clients
"Leadership starts at the top which is why we invested in aligning key skills in key people, so that they could cascade our values, vision and mission across their departments. Since the training you can see and feel the behavior changes across the organisation. It is present in our culture, diversity and business results. Our employees are more engaged and we are showing improved business results year on year."
Harvinder Pereira, HR Diracrtor, EMEA, Norwegian Cruise Line Holdings
"From the very beginning of the tender process, Dale Carnegie understood to respond to our specific needs and to offer the "added value" that others are lacking. Tackling a project on a complex global scale as ours, you simply need a professional partner that makes the difference and goes beyond the usual. The good impression we got from the very first moment was confirmed when it came to project management and delivery processes, as well as follow-up tasks. The quality was consistently high for all 266 trainings of our competence leadership project, delivered by 104 trainers in 28 countries and in 16 languages.
Andreas Evertz, CEO of Walter A.G.
"The work Dale Carnegie delivers and the value added element is quite simply down to the fact that they make it their business to understand our business needs. We have a genuine, joint business partnership which began back in 2002."
Simon Turner, HR & Training Manager, Sales & Marketing, The adidas Group
"My impression of the training is "Strengthening and Encouraging".All the training sessions were very useful and helped to improve my soft skills in Communication and building a good Human Relationship with others. All the willingness participations and interactions of the class made the learning so much fun and impactful. The training helped me to build a good relationship among the teams that I work with resulting in good collaboration and co-operation to achieve our targets. It will also help to reduce some stress level in certain circumstances / situations and bring more joy to others and myself if we communicate effectively and share the same vision. This will definitely help to improve our health and well-being thus resulting in higher productivity for the organization. The training has been a strengthening and encouraging journey for me to improve personally as an effective communicator and a good leader. It also gave me opportunities to learn and share the real life experiences of the others and myself which is very impactful. For the organization, the training can help their staff to improve to become a good effective communicators. It is also a good opportunity for the organization to groom future leaders with visions to achieve its objectives and goals. This also means that customers or other people see the professionalism of ABB in the deals internally and externally.
Doreen Goh, ABB Singapore
"Methods and practices for team coherence and cohesion. Different players for a general balance. Managing a heterogeneous team is not easy. The Dalecarnegie method allowed each of my collaborators to position themselves in the place of the other, which allowed everyone to face the same difficulties with a different observation. The coherence and cohesion of the team followed without much difficulty."
Hamza Mourtada, Lubes Operations Blending Plant Manager, OLA Energy
"When they told me that I could attend the sales and negotiation skills course, my first purpose was to take advantage of the opportunity to improve in my current role in marketing, since the communication objective and the public I am addressing now are totally different from the ones she used to have as a sales representative. With Monica I learned the importance of silence, active listening, and how to generate inclusive communication to involve my colleagues more in new marketing projects. Currently, I continue to apply the guidelines I learned during the course, and so far it has helped me to better understand the needs of my interlocutors, and to better communicate marketing projects, achieving a better reception from the rest of the departments."
Beatriz Sánchez Canela, Marketing Urología, Coloplast Productos Medicos S.A
"We could increase right attitude and skills regarding respecting others and effective ways of leading team meetings. Through training sessions many of our team leaders could build deeper relations which can help better cooperation and collaboration. Moreover, team leaders could have a chance to execution of innovation process and get various results such as Improving corporate culture, enhancing user retention, increasing game application download rates, and hiring competitive team members. It was meaningful momentum of transformation for participants from individual contributors to effective team leaders"
Heejin Ju, HR Director, Organization Culture, CookApps
❮
❯
Enterprise Training Subscription
Dale Carnegie Unlimited: A Live Online Subscription
Build customer service skills through one of the largest live online training libraries in the business. Perfect for remote or dispersed teams.
Our Competitive Advantage Creates Results
Quality Solutions that are Time-Tested and Truly Global
• Scale quickly with local operations in over 80 countries and training in 30+ languages
• Access a globally ISO-certified trainer network
• Experience driving results for 100+ years

Global Consistency with Local Results
• Drive enterprise programs with consistent local execution and results
• Access high-quality local trainers that deliver with credibility and cultural awareness
• Create increased buy-in of corporate training programs

Unique Training Methodology with Flexible Solutions
• Focus on attitude, behavior, and skill to drive durable performance change
• Learn through doing. Apply time-tested techniques to create real-world results
• Engage with an experienced partner delivering results for 100+ years

Custom Customer Service Training Solutions
Tailored Training
Operating in over 75 countries and in 29 languages Dale Carnegie works with organizations to uncover unique needs that address sales and service competency gaps – delivering consistent solutions through our unique training methodology and global trainer network.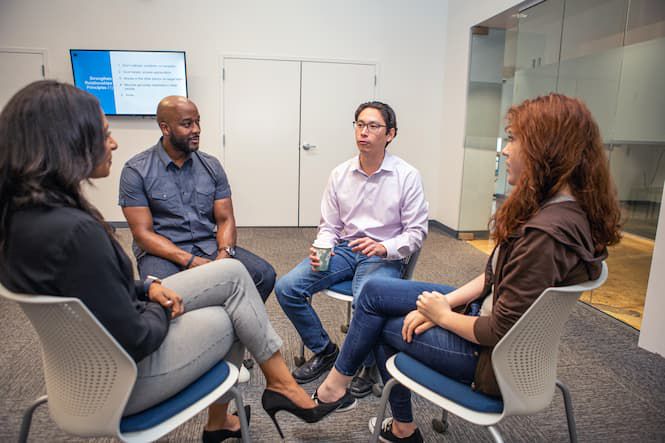 Leadership Development Training Starts Here
Shape the workplace culture
Effective leaders recognize their actions may have both intended and unintended consequences, so they carefully consider the culture that their actions will help shape. They recognize that by creating a positive climate that inspires team members, they influence them to contribute their best.
Help people uncover their blind spots
Great leaders are fully committed to the success of their people and are willing to invest time and energy in them. They intuitively see potential and know how to bring out the best in them. They realize that only by bringing out the greatness in their team members can their team demonstrate high potential.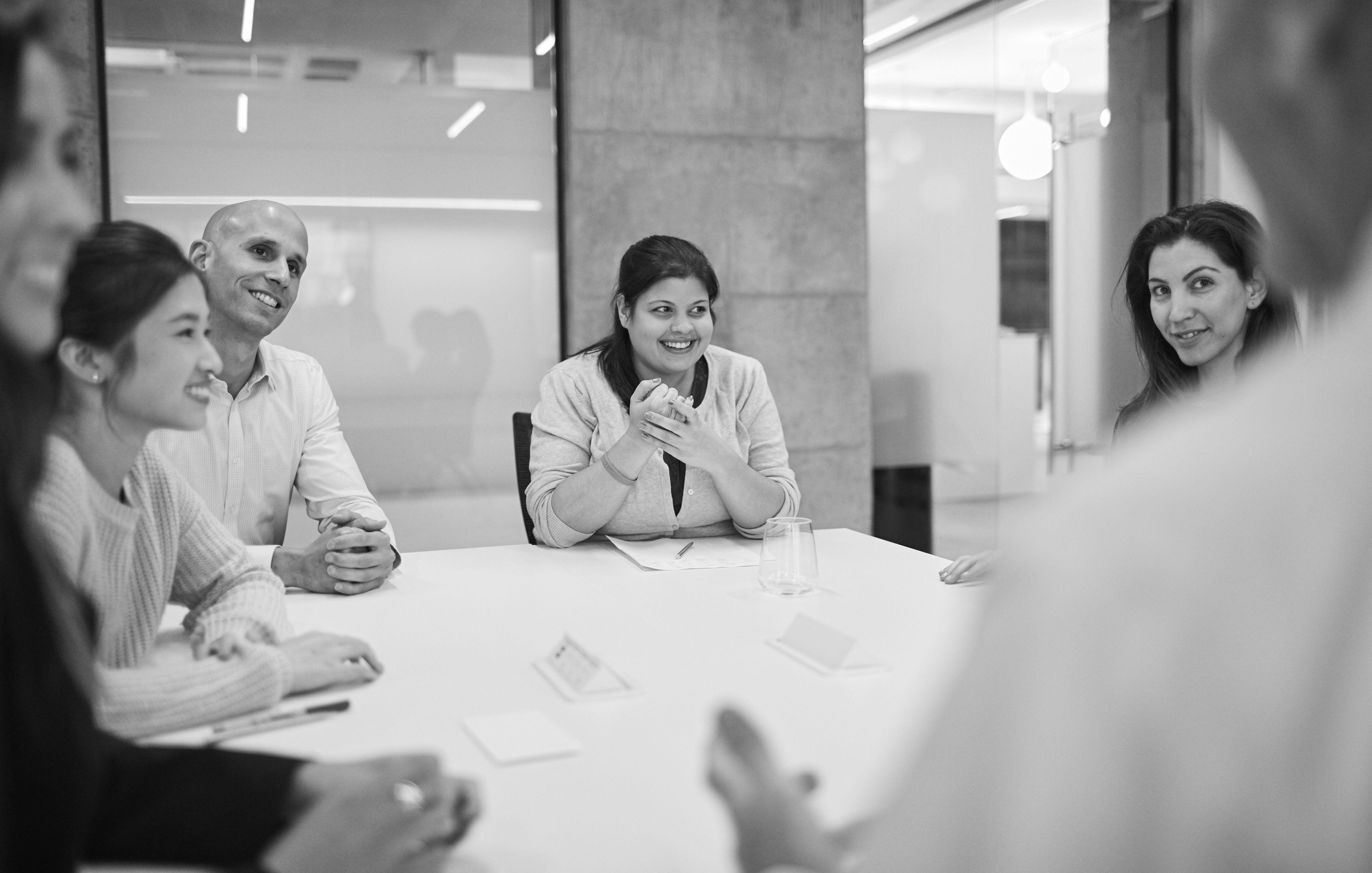 LEADERSHIP COURSES
Leadership Training Programs for Individuals, Teams, & Organizations
We provide practical skills that can be applied immediately, not just theories, buzzwords, fads or "flavors of the month."


We recognize that being a leader means being responsible for more than just yourself, and that is stressful. That's why we provide actionable tips and best practices to help reduce stress and worry.
Rather than trying to have you be someone you're not, we help bring out your greatness—your authentic self and inner leader.


Leaders can't and shouldn't try do it all on their own. We deliver the knowledge and skills to help leaders accomplish work through others.
Custom Leadership Solutions
Operating in over 75 countries and in 29 languages Dale Carnegie works with organizations to uncover unique needs that address leadership competency gaps – delivering consistent solutions through our unique training methodology and global trainer network.
High-potential team members being considered for leadership need to develop and exhibit the self-confidence and interpersonal skills that will be essential for success in their new roles.
New leaders need help transitioning from doing the work themselves to leading their team. Competencies at this stage of leadership development include using authority appropriately, being self-directed, developing others, and accountability.
Experienced leaders achieve success for the organization by working to bring out the greatness in their people. They do this by focusing on "next level" competencies that address the types of challenges they face in their roles: leading people through change, delegation that helps develop the people on their teams, innovation, and more.
Expand and sharpen your skills for a more successful career.
Reach Out
Contact us and explore how we can meet your unique challenges and allow you to take command of your career, your organization or your team.
: