Les facteurs émotionnels de l'engagement des employés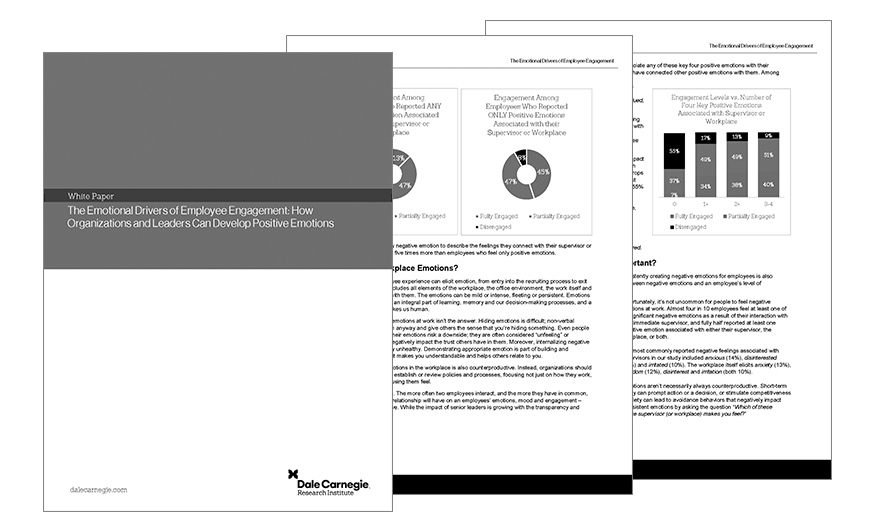 Benefit of this White Paper
Les émotions et l'engagement sont liés. Les employés engagés sont plus productifs et fidèles. Ce document vous explique comment et pourquoi bien vous conduire vis-à-vis de vos employés. Faites-leur savoir qu'ils sont importants, donnez-leur la possibilité de se développer et regardez-les prendre leur envol !
What You'll Learn With It
L'engagement ne se résume pas à être heureux au travail. Il s'exprime plus par le degré auquel les employés se sentent connectés et dévoués à leur organisation. Découvrez le pouvoir des émotions positives sur la productivité, la satisfaction et l'implication des employés. Découvrez les quatre facteurs émotionnels clés et comment les gérer pour renforcer l'engagement.
Why You Need It
Les émotions positives touchent les employés, les clients... et les clients et employés potentiels. Promouvoir les émotions positives améliore les relations. Les employés émotionnellement connectés avec une organisation ressentent un sentiment d'appartenance. Ils sont plus susceptibles de rester et délivrent un meilleur travail en moins de temps. Le résultat : moins de coûts de rotation.
What You'll Do With It
Améliorez les compétences interpersonnelles au sein de l'équipe et développez les émotions positives. Faites sentir aux employés qu'ils appartiennent à quelque chose de plus grand qu'eux-mêmes. Quelque chose dont ils peuvent être fiers. Ce sentiment de fierté dynamise les employés et permet à tout le monde d'avancer !

Les facteurs émotionnels de l'engagement des employés