Explore Our Transformational Resources
As a global leader in workplace training and development, we've created custom resources to supplement your training, as you further develop the skills to become a better, more confident, and more effective version of yourself.
Refine your Results
---
By Topic:
---
Live Online Training
The pace of workplace change has accelerated. Many skills that were nice to have are now required.
Actively participate in highly interactive programs from your home as certified instructors facilitate challenging, collaborative activities.
Explore
Learn more about Dale Carnegie Live Online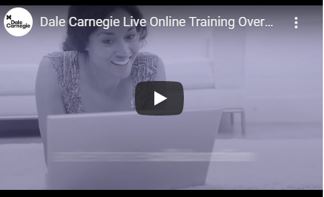 In today's business environment it's critical to develop and engage a remote workforce. Dale Carnegie offers 70 live online, instructor-led programs covering an array of skills across a variety of formats, from webinars to multi-session seminars.


Watch the Video