All Resources
/
eBooks
/
Les secrets du succès de Dale Carnegie
Les secrets du succès de Dale Carnegie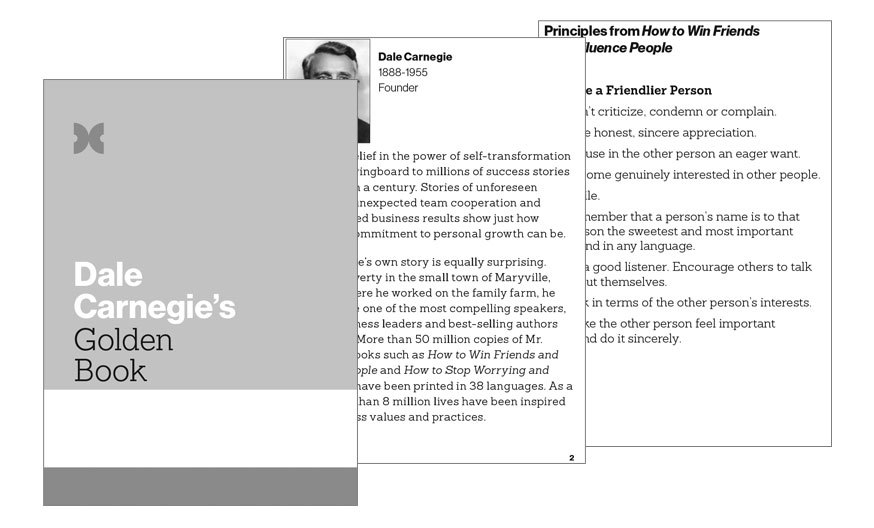 Benefit of this eBook
Les livres de Dale Carnegie, tels que « Comment se faire des amis » et « Triomphez de vos soucis : vivez que diable ! », se sont vendus à plus de 50 millions d'exemplaires. Dispensées lors de formations, ses valeurs et pratiques ont encore inspiré plus de 8 millions de vies. Une pléthore de précieux conseils vous guideront vers un succès inimaginable. Mettez ces conseils en pratique pour exceller en tant que leader et devenir la meilleure version de vous-même.
What You'll Learn With It
Les principes de « Comment se faire des amis » vous expliquent comment influencer les autres afin qu'ils soutiennent votre vision. Découvrez 9 techniques pour améliorer les relations humaines et des techniques fondamentales pour devenir un leader respecté. Des conseils pour gérer les critiques et le stress vous permettront d'avancer librement – avec de nouvelles idées et des partenariats plus solides.
Why You Need It
Depuis plus d'un siècle, Dale Carnegie n'a de cesse d'améliorer les performances des personnes et des entreprises à travers le monde. Tandis que nos techniques de formation continuent d'évoluer, nos principes fondamentaux restent fidèles à une vision unique : toute transformation réelle vient de l'intérieur. Conçue initialement par un seul homme convaincu de la possibilité de transformer les individus, la méthode de Dale Carnegie continue à inspirer l'excellence individuelle en puisant dans le potentiel de chacun.
What You'll Do With It
En appliquant ces principes intemporels, vous excellerez en tant que leader et gagnerez la confiance et le respect des personnes qui vous entourent. Instaurez un changement positif en mettant en valeur des collaborateurs brillants et ingénieux En ralliant les autres à votre point de vue et en réduisant le stress, vous mobiliserez les équipes et aiderez l'organisation à atteindre de nouveaux sommets.

Les secrets du succès de Dale Carnegie