Why Long-Term Customer Loyalty is Still Driven by Trusted Relationships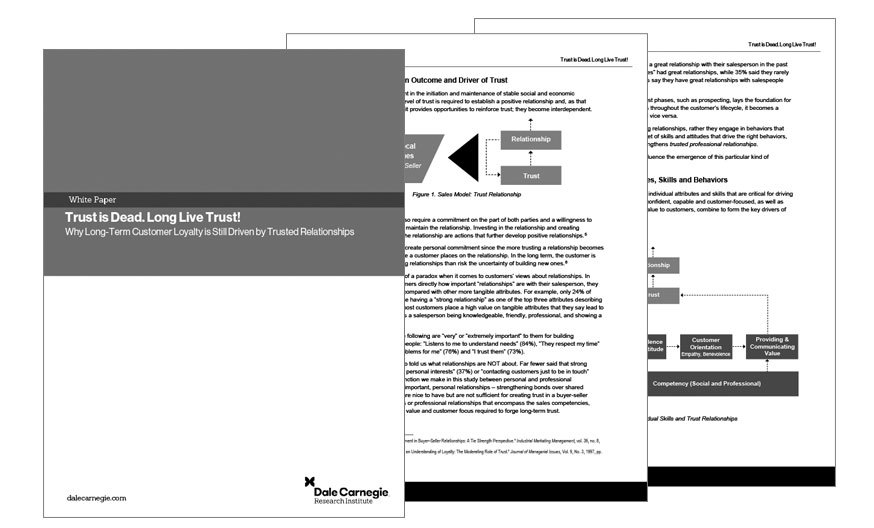 L'avantage de ce Livre Blanc
71 % des participants ont déclaré qu'ils préféreraient acheter auprès d'un professionnel des ventes en qui ils avaient totalement confiance qu'auprès d'un autre qui leur proposait un prix inférieur.
Télécharger votre exemplaire
Ce que vous allez apprendre
It's all about trust. Learn why trust is critical in the selling process and what attitudes are required by sales professionals to develop trusted business relationships. See how a customer-oriented approach followed by the right communication skills create value for the customer.
Pourquoi vous en avez besoin
Customers already have an idea of what they need. They don't need to be sold, rather they need a sales professional with the right skill set to guide them through the buying process. A sales professional that informs, delivers value and instills confidence is ultimately one that creates trusted relationships that lead to long-term customer loyalty.
Ce que vous allez en faire
Get smarter by learning the critical skills and the right sales process for generating more revenues. Build a team that can sell on value rather than on features and price. Start developing more meaningful and lasting professional relationships with your customers.

Obtenir ce Livre blanc maintenant