Want to know the secrets to employee engagement? Here they are:
• Relationships matter
• As a manager, you're critical (as in, it can't be done without you)
• Mastering three skills can lead to remarkable success
Employee Engagement Requires Forming Relationships
Okay. You want to engage your employees, but you're not 100% sure what you need to do.
Whether it's on your list of performance management objectives or not, employee engagement requires creating an emotional and interpersonal relationship with each one of your direct reports.
You do this all the time, probably without thinking about it, if you're like most people. You have lots of interpersonal relationships: with family, friends, neighbors, maybe even the drycleaner. The only difference now is that you do need to think about it. You need to be intentional.
By the way, don't get tripped up thinking that interpersonal relationships with direct reports are out of bounds. Professional? Absolutely. But genuine relationships are always also personal. Why? Because people are involved.
As a Manager, You Need to Take the First Step
You're the manager. It's up to you to establish a strong relationship with each one of your direct reports. You need to act first. You can't expect your employees to take the initiative.
Here's the vision: You want each one of your employees to truly feel that working for you is a wonderful experience. When they do, you'll maximize engagement. They'll feel valued, confident, empowered and connected.
Make Sure You've Mastered These 3 Skills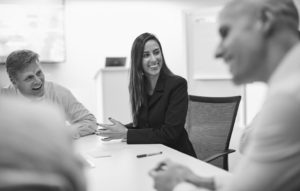 If you perfect these three skills, you'll be an unforgettable manager. To make the grade, though, you'll need to be able to:
1. Develop excellent interpersonal relationships. This is the essential management skill.
To succeed, you'll have to be conscious about building outstanding interpersonal relationships in a work environment . And, you'll need to put that know-how into practice on a daily basis.
Keep in mind, though: You can't play favorites. Yes, you might click with some employees more than others, but challenge yourself. You need to build a healthy interpersonal relationship with each employee.
2. Engage in authentic conversations. The first step is being a good listener, but you also need to direct the discussions you're having. Why? Because we're not talking about bonding over last night's baseball game or the new craft brewery in town.
So, what then? You need to know how to lead a conversation to uncover the professional hopes and dreams of your direct reports. To help you understand—and appreciate—your direct reports as individuals. Their strengths. Their aspirations. Their challenges. What makes each one of them tick professionally? Once you know that, you can do something about it.
3. Recognize unique talents and reward accomplishments. You may have noticed the special talents and abilities of some of your employees. But have you ever mentioned it to them? Have you ever told Jessica she's great at diffusing tension in sticky situations? And that you really appreciate that about her? And her peers do, too?
If not, then now is the time to start. By ignoring employee recognition you're missing out on a huge opportunity to increase employee engagement, productivity, and retention. And, it doesn't cost you a thing.
Your employees need to know that who they are and what they do makes a difference – and it's up to you to make that happen.
What's your reward for all this effort? Managers of engaged employees have lots of advantages – enjoy them!
Now that you know what, check out how to master each one of these skills on my blog posts, and start practicing today.