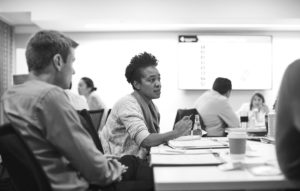 Dale Carnegie research shows that trust in leadership drives employee engagement:
Top leaders may be their own worst enemy in their efforts to engage the hearts and minds of their employees to drive company performance.
85% of CEOs say employee engagement is a top priority
However, employees rate leadership the lowest when explaining their level of engagement
Leadership Isn't Pulling Its Weight in Engaging Employees
Gallup's 2020 State of the American Workforce  gets a lot of media attention, and it's turned up a few inconvenient facts for C-suite executives. For example:
Only 22% of employees strongly agree that their leaders have a clear direction for their organization
About 15% of employees strongly agree that leadership makes them feel enthusiastic about the future
13% of employees strongly agree the leadership of their organization communicates effectively with the rest of the organization.
Recent Dale Carnegie data reflect similar sentiments:
Only 28% of employees strongly agree that leadership can be depended on to do the right thing
Only 28% strongly agree that leadership genuinely cares about their health and well-being
These are not encouraging statistics, particularly when we hear so many leaders profess the importance of employee engagement. As it turns out, many employees have little faith in their organization's leadership.
Trust in Leadership Drives Employee Engagement
Our research shows that three drivers influence employee engagement:
Trust in leadership
Pride in organization
Connectedness with immediate manager
In 2018-2019, we tested 36 factors across these three drivers to determine what factors affect current engagement levels. We found that factors associated with pride in organization top the rankings for fully engaged employees, taking six of the top eight slots and besting factors related to trust in leadership by about 20 to 30 points.
So, How Badly Did Leaders Fare in Driving Employee Engagement?
They didn't fare as well as one might expect.
We measured trust in leadership using multiple factors, including:
Dependability (as in leadership can be depended on to do the right thing)
Openness and transparency
Treatment of employees in terms of fairness, compassion, and genuine caring
Promotion of work life balance and workplace flexibility
Commitment to employee growth and development
Of the leadership factors, leaders score best on treating employees fairly and equitably. Which isn't saying a whole lot since this factor fails to make the top 10 for fully engaged employees who rated it 19 points behind their leading factor—belief in the organization's mission and goals. Leaders score worst on openness and transparency—a full 30 points below the top-scoring factor for fully engaged employees.
Fully engaged employees, of course, are much more supportive of leaders' efforts than other employees. The problem is that only 30% of employees are fully engaged. It's the others that need a reason to engage.
For example, 64% of fully engaged employees strongly agree that leadership treats all employees fairly and equitably while a mere 8% of actively disengaged employees do.
On openness and transparency, 53% of fully engaged employees strongly agree leadership is open and transparent compared to a scant 6% of actively disengaged employees. For both partially engaged and actively disengaged employees, leaders' openness and transparency ranks dead last of the 36 factors we tested.
Leadership Needs to Drive Trust
Trust in leadership is what some business consultants call the glue that binds leaders to followers and ensures organizational success. Others, like the Center for Creative Leadership study say it's critical to engagement.
Elsewhere we argued that leadership needs to do three things to move the needle on employee engagement. All of which pertain to the impact leadership has on managers' ability to engage employees.
Here we argue that leaders have a direct impact on employee engagement as well.
Judging from the data, trust in leadership is a significant challenge. And the level of trust in an organization sets the tone for the corporate culture. If you would like to read more about the role of trusted leaders in driving engaging cultures read our white papers on Corporate Culture and Preparing People for Artificial Intelligence in the Workplace.