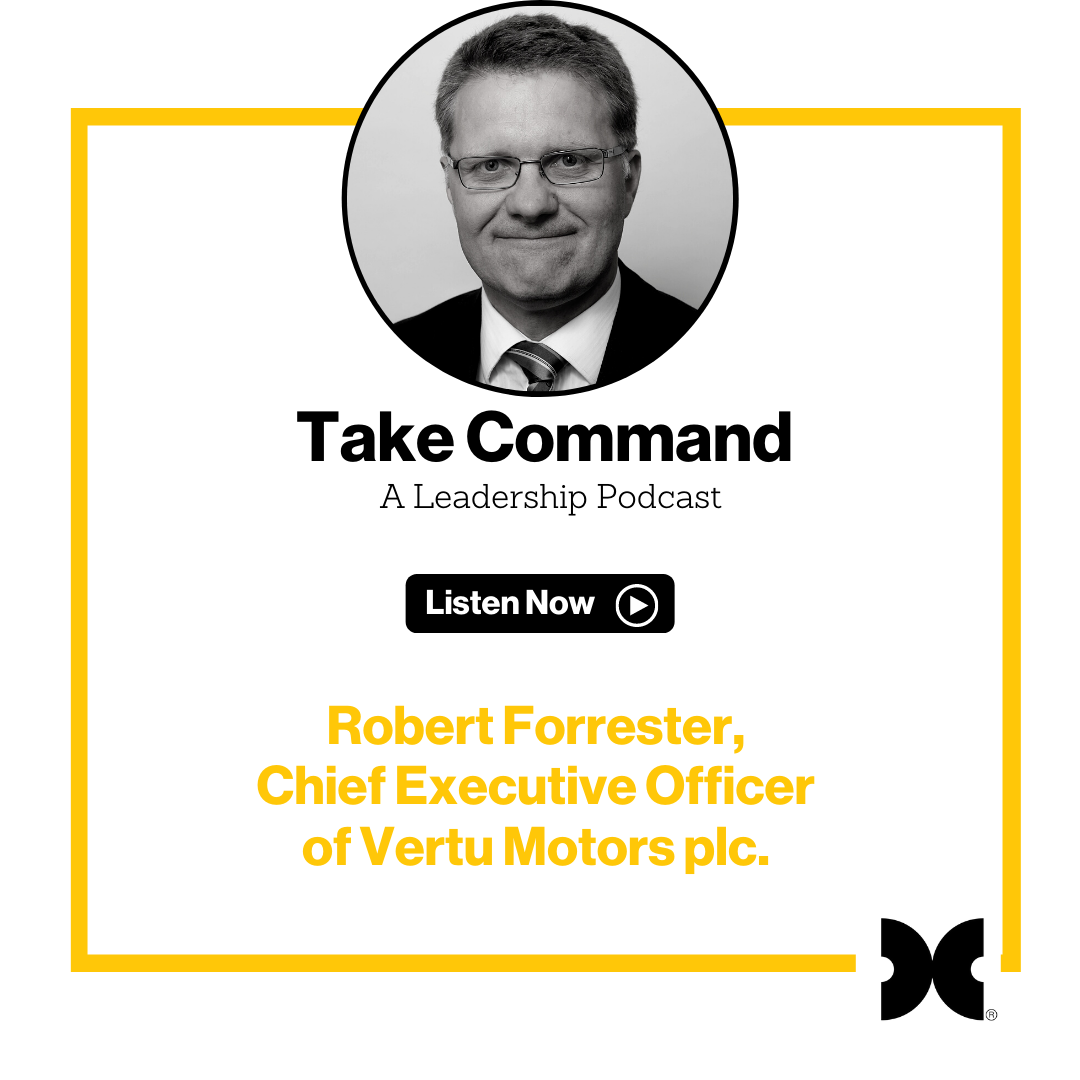 When the world shut down due to COVID-19 in March 2020, Robert Forrester, CEO of Vertu Motors plc, had to close number of its stores and furlough 5500 employees. Immediately, his leadership team went to work and rolled out . A strategy that reflects Forrester's leadership style: 1) Communicate with every employee frequently, clearly, and directly; 2) Be decisive, and 3) Explain what you're doing, why you're doing and how your decision impacts the team and the company. Forrester brought the furloughed employees back quickly and now, two years later, Vertu is back to  normal with a packed office again . With so many lessons learned, Forrester knows he, his team and the company are better prepared for other challenges that they may encounter.
For Forrester, overcoming adversity is part of his DNA. Earlier in his career, he was diagnosed with and expected to die of meningitis and had to be immediately hospitalized. The entire experience helped put life in perspective for Forrester, prioritizing what was most important and acting fast. Interestingly, the doctor who helped save him later became his wife.
The experienced accountant  dove into the automotive industry, rising to the senior ranks of a major company where he had worked for six years. When new owners bought the company,  found himself fired within three minutes after the announcement with a 12-month non-compete.
A bit angry and frustrated, he had to figure out his next steps. He met with his mentors and friends who kept him motivated and focused. He developed a business plan in 2006 for Vertu Motors plc which he founded and now has more than £4B in revenue, 6,000 employees and 159 sales outlets. Forrester adds, "What looked at the time a really poor situation of unemployment, turned out to be one of the best things that happened."
Forrester says "You got to have people around you who you respect and are willing to tell your reality." Have mentors who will keep you "on the straight and narrow." You have to work on your mindset every day, he says. Your diet, journaling, and daily affirmations are critical. "The more you work on yourself," Forrester explains, "everything else flows really well."
Forrester admits that he was a "classic task-focused accountant who thought everything was in numbers. … I was quite disparaging of people and so I was quite arrogant actually and no one wants to work with you." While some of his blunt, straightforward manners are still part of his personality, Forrester now embraces a "win-win" versus "zero-sum" management and negotiation style, which he learned when one of his friends gave him a copy of Dale Carnegie's "How to Win Friends and Influence People." The book helped him change and helped him realize that offering training and development to your employees creates a pipeline for leadership and improves the overall culture. He also encourages his employees to take their own steps to learn and grow in their jobs.
As a leader, Forrester stresses the importance of mission and values, noting that if you make the wrong decision on values it will always come back to haunt you. "Culture is fundamental to business," he says. "I mean I'm an accountant. I can't even believe that I spend so little time looking at numbers and profit/loss…If you have the culture of the business right, if people know the difference between right and wrong and people are motivated and trained, then the profit/loss account will take care of itself."
Listen to the whole episode here: