All Resources
/
eBooks
/
Dale Carnegie's Secrets of Success
Dale Carnegie's Secrets of Success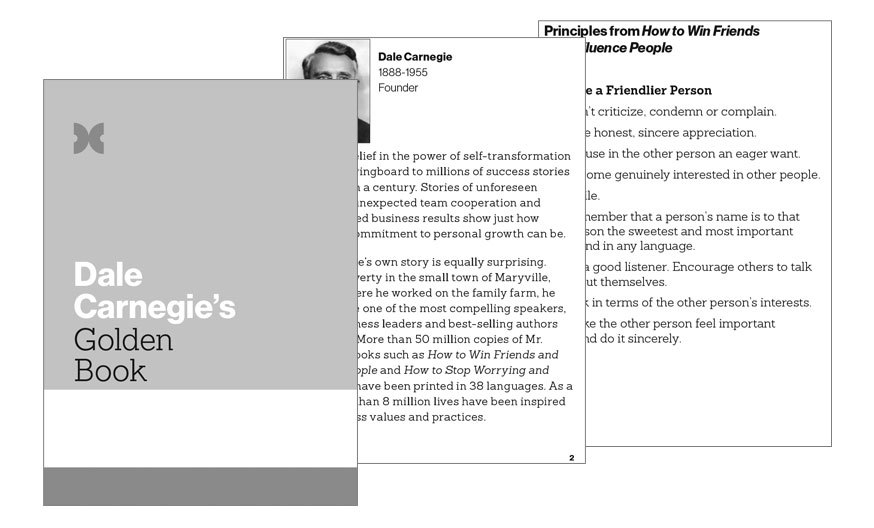 Benefit of this eBook
Lebih dari 50 juta eksemplar buku Mr. Carnegie seperti How to Win Friends and Influence People dan How to Stop Worrying and Start Living, dan akibatnya, lebih dari 8 juta orang terinspirasi oleh nilai dan penerapannya yang abadi. Sejumlah kiat utama akan mengarahkan Anda menuju kesuksesan yang tak terbayangkan. Gunakan petunjuk tersebut untuk menjadi pemimpin yang unggul dan menjadi versi terbaik dari diri Anda sendiri.
What You'll Learn With It
Prinsip dari buku How to Win Friends and Influence People menunjukkan kepada Anda bagaimana mempengaruhi orang lain untuk mendukung visi Anda Temukan 9 teknik untuk meningkatkan hubungan, dan teknik dasar untuk menjadi pemimpin yang dihormati. Petunjuk untuk menangani kritik dan stres akan membuat Anda bebas untuk maju dengan ide baru dan kemitraan yang lebih kuat.
Why You Need It
Selama lebih dari satu abad, Dale Carnegie telah memperbaiki kinerja individu dan bisnis di seluruh dunia. Meskipun teknik pelatihan kami terus berkembang, prinsip inti kami tetap setia pada satu visi: transformasi nyata dimulai dari dalam. Dari awal yang sederhana ketika satu orang percaya pada kekuatan untuk mengubah individu, Dale Carnegie terus mengilhami keunggulan individu dengan memanfaatkan potensi setiap orang.
What You'll Do With It
Saat Anda menerapkan prinsip-prinsip abadi ini, Anda akan bertumbuh sebagai pemimpin sambil mendapatkan kepercayaan dan rasa hormat dari orang-orang di sekitar Anda. Ciptakan perubahan positif dengan memberi pencerahan pada tenaga kerja yang cerdas dan pandai. Dengan memenangkan orang-orang kepada cara berpikir Anda dan mengurangi stres, Anda mulai menggerakan tim dan membantu seluruh organisasi meraih prestasi-prestasi baru.

Dale Carnegie's Secrets of Success