All Resources
/
eBooks
/
Guía para resolver los conflictos internos
Guía para resolver los conflictos internos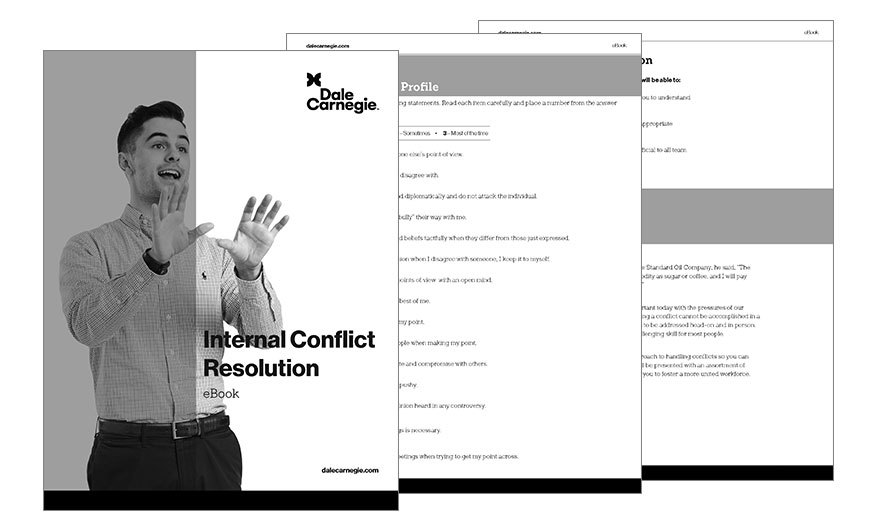 Benefit of this eBook
La habilidad de interactuar con las personas es mucho más importante en la actualidad por la presión de nuestro ambiente de trabajo complejo y acelerado. Este libro presenta ideas para analizar las situaciones de conflicto y métodos de resolución que fomentan la cooperación. Descubre cómo interpretar las reacciones individuales hacia el conflicto, permitiéndoles entender y manejar mejor las emociones y necesidades.
What You'll Learn With It
Primero, un perfil de reacción de conflicto integral te permite analizar tu enfoque actual para enfrentar los problemas y así puedas localizar las áreas de mejora. Se proporciona un conjunto de estrategias prácticas de resolución de conflicto. Esto, armado con formas alternativas para disipar las situaciones polémicas, aprenderás a guiar a un equipo más cohesivo.
Why You Need It
Los problemas en el trabajo debilitan la moral, tensan la productividad y obstaculizan el progreso en general. La discordia se necesita afrontar de frente. Cuando el conflicto se vuelve una gran alteración o riesgo en las relaciones, es momento de ser un pacificador hábil.
What You'll Do With It
Este folleto proporciona las estrategias prácticas para resolver los conflictos y cambiar las actitudes y comportamientos para minimizar todos los problemas. Analizarás las situaciones para determinar la resolución más adecuada y utilizar la plantilla para crear un plan de acción.

Guía para resolver los conflictos internos