All Resources
/
White Papers
/
Impulsores emocionales para el compromiso del colaborador
Impulsores emocionales para el compromiso del colaborador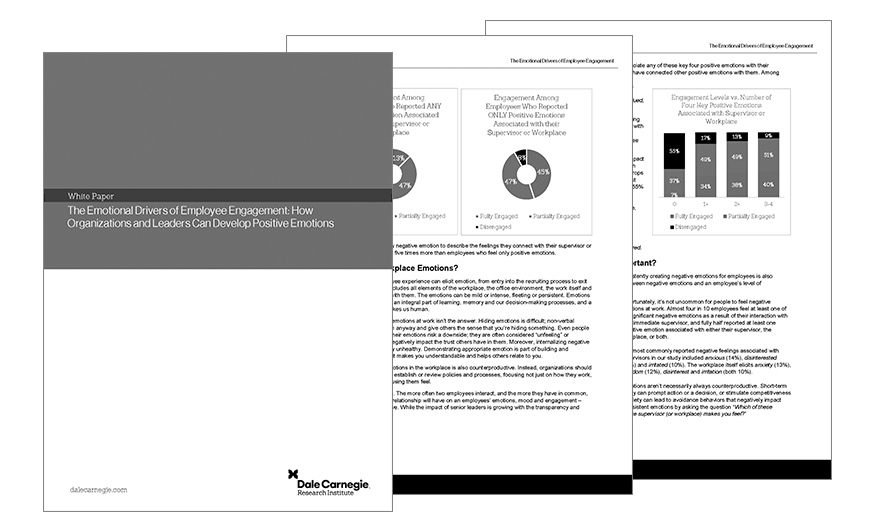 Benefit of this White Paper
Las emociones y el compromiso están profundamente interconectados. Cada momento y cada contacto durante la experiencia del colaborador puede provocar emociones, algunas de las cuales impulsan el compromiso y otras lo perjudican.
What You'll Learn With It
El compromiso va más allá de ser feliz en el trabajo. Éste se demuestra a través de qué tan conectados y dedicados se sienten los colaboradores con su organización. Conoce el poder de las emociones positivas en la productividad, satisfacción y compromiso del colaborador. Descubre los cuatro impulsores emocionales fundamentales e identifica maneras de ayudar a tus colaboradores a sentir emociones que influyen en su trabajo.
Why You Need It
Las emociones positivas afectan a los colaboradores, clientes y clientes potenciales. Actualmente hay investigaciones sustanciales que apoyan la idea de que las emociones positivas en el lugar de trabajo producen una gama de beneficios tangibles. Cuando se trata de desempeño, las emociones que los colaboradores experimentan pueden ser tan importantes como las habilidades y el conocimiento que aportan a sus funciones. Las personas que se conectan de forma emocional a una organización tienen un sentido de propiedad y es más probable que permanezcan en tu compañía y produzcan un mejor trabajo en menos tiempo lo que reduce los costos de rotación.
What You'll Do With It
Para generar un capital emocional positivo entre los colaboradores, esto lo lograrás conociendo más sobre el impacto de las emociones y utilizando este conocimiento para diseñar la experiencia de las personas, a fin de maximizar las emociones que fomentan el compromiso y minimizar las que lo perjudican.

Impulsores emocionales para el compromiso del colaborador