Speak More Effectively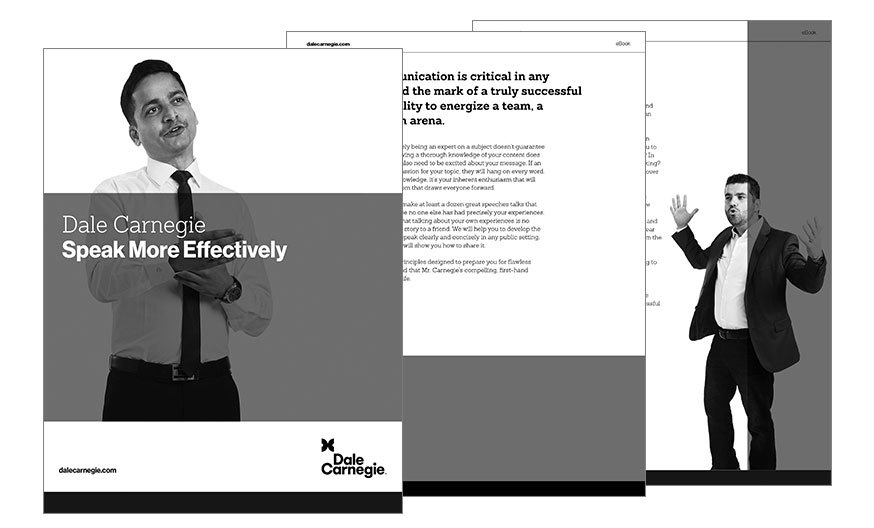 Benefit of this eBook
Effectieve communicatie is in elke rol belangrijk, en het kenmerk van een echt succesvolle persoon is het vermogen om een team, een directiekamer of een arena te stimuleren. Dit boek toont je, dat over je eigen ervaringen praten niet moeilijker is dan een goed verhaal aan een vriend vertellen. Het zal je helpen om de moed en het zelfvertrouwen te ontwikkelen om in elke openbare omgeving te spreken.
Wat je zal leren
Ontdek acht grondbeginselen die je voorbereiden om vlekkeloos in het openbaar te spreken. Leer hoe je je nervositeit kan elimineren en met vertrouwen en geloofwaardigheid kan spreken. De boeiende verhalen van Dale Carnegie brengen de principes tot leven.
Waarom je dit nodig hebt
Of je nu collega's overtuigt, met klanten praat of een team motiveert, de kracht van je presentatie maakt het verschil. Hoewel een grondige kennis van je materiaal je het recht geeft om te spreken, moet je ook enthousiast zijn over je boodschap. Als een publiek je oprechte passie voelt, zullen ze aan je lippen hangen.
Wat je ermee kan doe
Inspireer grote publieken, spreek de media toe, of beheers een vergadering. Geef een boeiende presentatie die positieve resultaten oplevert. Wees het lichtpunt in een donkere kamer dat iedereen de juiste weg toont!