All Resources
/
eBooks
/
I consigli di Dale Carnegie. L'arte di parlare in pubblico
I consigli di Dale Carnegie. L'arte di parlare in pubblico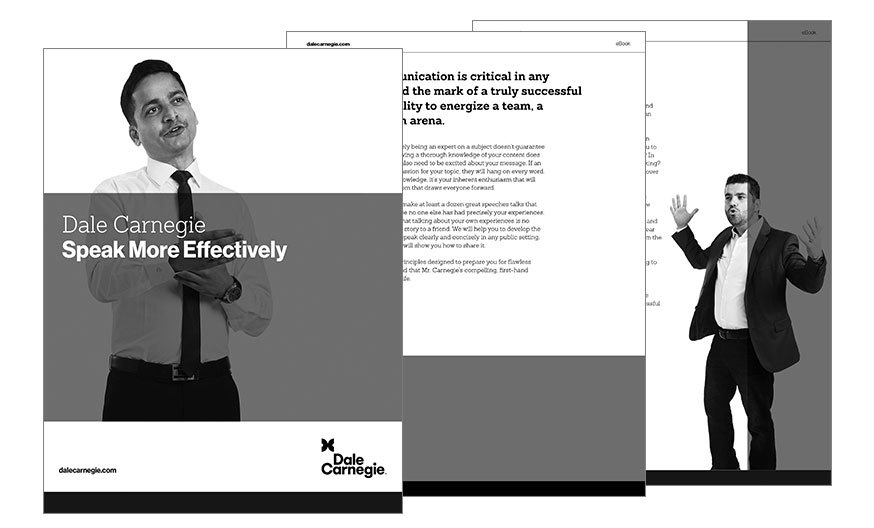 Benefit of this eBook
Una comunicazione efficace è essenziale in ogni ruolo. Il tratto distintivo di una persona di successo è la sua capacità di motivare un team o una grande platea. Questo eBook dimostra che parlare delle tue esperienze è semplice come raccontare una storia interessante a un amico. Ti aiuterà a sviluppare il coraggio e la sicurezza necessari a parlare in qualsiasi contesto pubblico.
What You'll Learn With It
Attraverso l'esperienza, gli esempi e i racconti di Dale Carnegie in persona, l'arte del parlare in pubblico si svela in ogni suo segreto. Segui 8 semplici principi e affina le tue abilità di presentazione e comunicazione efficace per fare la differenza nella tua vita professionale.
Why You Need It
Che tu stia parlando ai tuoi colleghi, vendendo a un cliente o motivando un team, la qualità della tua presentazione fa la differenza. Una conoscenza approfondita dei tuoi contenuti ti fa guadagnare il diritto di parlarne, ma devi anche essere entusiasta del messaggio che stai comunicando. Se il pubblico percepirà la tua passione sincera, penderà dalle tue labbra.
What You'll Do With It
Ispira la tua audience, in un'occasione pubblica o semplicemente durante una riunione. Realizza una presentazione appassionante che produca risultati positivi.

I consigli di Dale Carnegie. L'arte di parlare in pubblico