Comunicare con tatto e diplomazia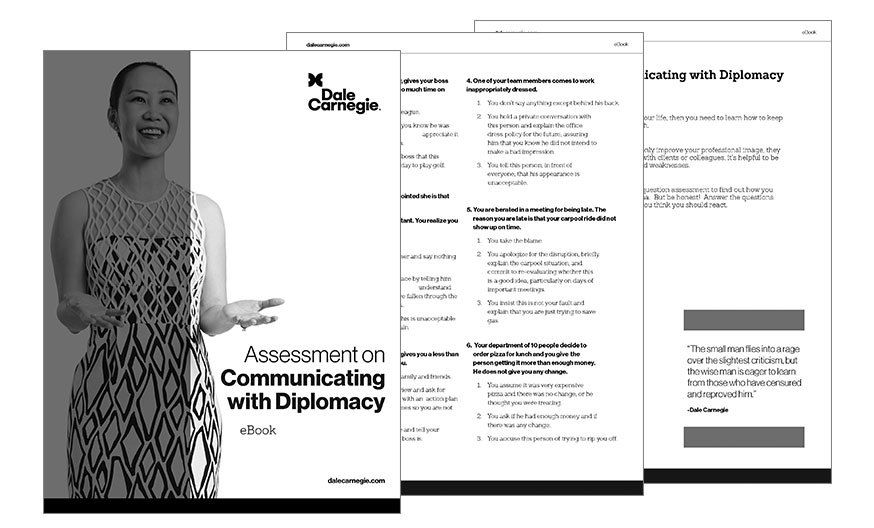 Vantaggi di questo eBook
Questa guida ti offre una conoscenza approfondita dei tuoi punti di forza e di debolezza come comunicatore. È studiato per aiutarti a imparare a non essere d'accordo mostrandoti comunque disponibile, a farti valere con sicurezza e diplomazia e ad assumere un atteggiamento aperto e comprensivo verso gli altri.
Scarica la tua copia
Cosa apprenderai
Non puoi scalare la gerarchia aziendale se offendi i tuoi colleghi lungo la strada. Pratiche aziendali solide richiedono abilità comunicative diplomatiche e ponderate. Con uno stile personale fiducioso e deciso e una grande flessibilità in situazioni difficili, avrai molte più possibilità di raggiungere la vetta.
Perché ti sarà utile
You can't climb the corporate ladder if you're offending your colleagues along the way. Solid business practices require tactful and thoughtful communication skills. If you have a confident and assertive personal style and remain flexible in difficult situations, you are much more likely to rise to the top.
Come potrai applicarlo
L'importanza di comunicare con diplomazia non si limita al mondo imprenditoriale. Dovresti comunicare con gentilezza in famiglia, con gli amici e perfino con gli animali domestici! Le persone commettono errori. Il modo in cui reagisci a questi errori dice molto su di te.

Ottieni subito questo eBook