All Resources
/
White Paper
/
Transformando Atitudes em Ações
Transformando Atitudes em Ações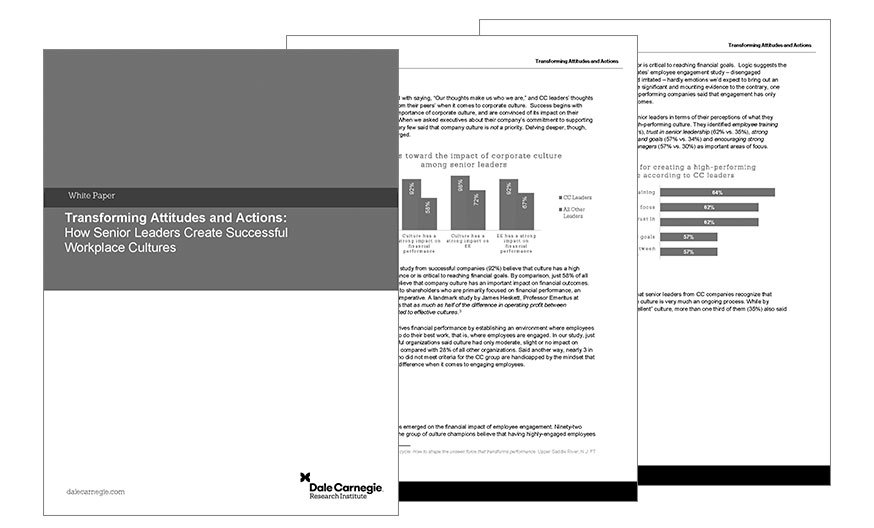 Benefit of this White Paper
Entenda os elementos de uma cultura corporativa estruturada Em um estudo recente realizado em quatro países, a Dale Carnegie se propôs a examinar as percepções dos líderes seniores sobre a influência da cultura de suas próprias empresas, suas atitudes em relação a sua importância e impacto, e as ações que eles estão tomando para melhorá-las.
What You'll Learn With It
Desafios para construir uma grande cultura corporativa Como as atitudes e ações dos líderes seniores impactam a cultura Quem está construindo uma cultura corporativa estruturada e como
Why You Need It
Uma forte cultura corporativa é vista como a chave para vencer em um mercado competitivo; uma desestruturada, a sentença de morte. Embora a explicação seja fácil, a temática sobre a cultura corporativa é complexa. A Dale Carnegie identifica áreas onde você pode melhorar sua cultura corporativa.
What You'll Do With It
Utilize os resultados da pesquisa para se tornar mais informado e construir sua opinião sobre a cultura corporativa. Leve dados importantes à sua organização para informar a tomada de decisões e direcionar os investimentos estratégicos criados para reforçar sua cultura corporativa.

Transformando Atitudes em Ações