All Resources
/
White Paper
/
Reconhecendo pontos cegos da liderança
Reconhecendo pontos cegos da liderança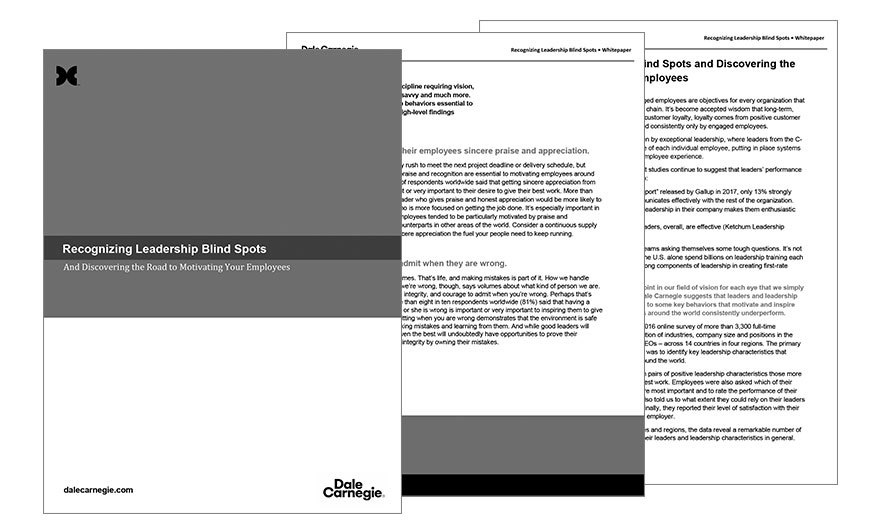 Benefit of this White Paper
As pesquisas mostram que líderes possuem pontos cegos, e que podem custar muito para a organização. Infelizmente, a maioria dos líderes acredita que a visão deles no mundo dos negócios é 20/20, o que é preciso um pouco de argumentação para conseguir com que eles vejam os erros que cometem. Este White Paper, fundamentado por pesquisas feitas com colaboradores, identifica os pontos cegos de líderes e oferece soluções efetivas para abordá-los.
What You'll Learn With It
A liderança é uma disciplina complexa que requer visão, pensamento estratégico, perspicácia financeira e mais. Quando se trata de comportamentos de liderança essenciais para engajar colaboradores, há quatro descobertas de alto nível que apontam para os pontos cegos da liderança. Aprenda quais são esses pontos cegos e descubra como alguns pequenos ajustes podem levar a níveis maiores de engajamento de colaboradores.
Why You Need It
Quando os líderes superam seus pontos cegos, os colaboradores tendem a ficar mais satisfeitos com seus empregos do que aqueles cujos líderes ignoram e não reconhecem o que não conseguem ver. Colaboradores satisfeitos estão mais predispostos a permanecer com seu empregador e são mais produtivos, agregando à lucratividade da empresa. Os líderes que veem a lacuna entre o comportamento real e o comportamento desejado podem abordar essas áreas que necessitam de revisão, tornando a experiência geral dos colaboradores significativamente aprimorada!
What You'll Do With It
Elimine o maior número possível de pontos cegos da liderança. Reconheça quais são eles e faça algo para mudá-los. Com esta autorreflexão franca, os líderes podem se tornar o bem excepcional da organização que se espera que sejam.

Reconhecendo pontos cegos da liderança