Guía de coaching al liderazgo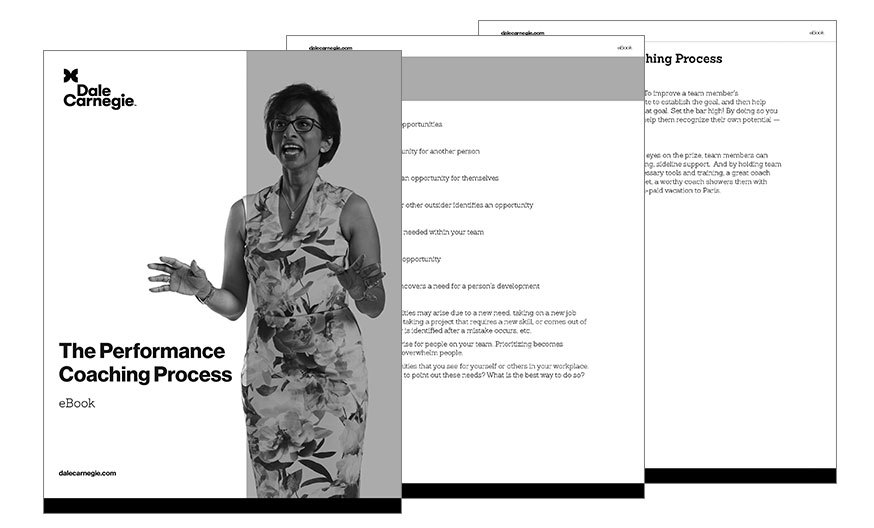 Beneficios de este eBook
Today's leaders need skills that inspire and equip teams to evolve to their best — and key among these skills is coaching. One of the most important concepts in coaching is having a vision or end goal in mind; without it, people often lose focus and motivation. How to create this picture of what's possible for is central to the coaching process.
Descargar tu copia
Lo que aprenderás
Aprende siete pasos y técnicas comprobadas para crear una atmósfera en dónde las personas estén motivadas de forma constante a alcanzar su máximo potencial. Colabora para establecer las metas y ayuda a los miembros del equipo a adoptar la actitud correcta para lograr los objetivos. Descubre formas de reconocer las fortalezas y oportunidades, dar retroalimentación efectiva y proporcionar el tipo de apoyo y reconocimiento correcto.
Por qué lo necesitas
Un buen coaching es un proceso bien afinado. Aprenderás como desarrollar la confianza para dar coaching con menos resistencia. Si estableces un objetivo claro y mantienes a los miembros del equipo con los ojos en el premio, pueden alcanzar las estrellas con tu apoyo desde la banda.
Lo que harás con él
Con el proceso y técnicas adecuadas, ¡establecerás expectativas altas! De este modo, demostrarás que confías en las habilidades de los miembros de tu equipo y los ayudarás a reconocer su propio potencial. Si haces que los equipos asuman su responsbilidad y brindas las herramientas y formación necesarias, ¡los mantendrás motivados a lograr un éxito inesperado!