Hướng dẫn huấn luyện lãnh đạo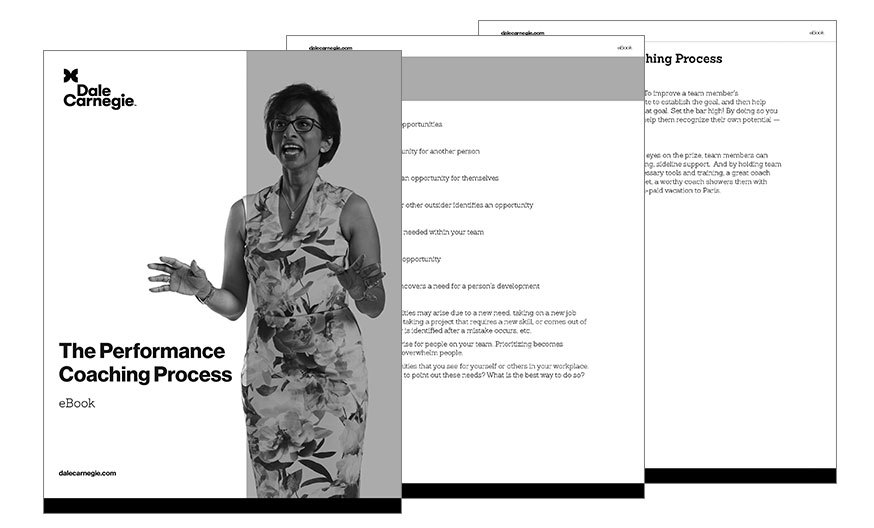 Benefit of this eBook
Today's leaders need skills that inspire and equip teams to evolve to their best — and key among these skills is coaching. One of the most important concepts in coaching is having a vision or end goal in mind; without it, people often lose focus and motivation. How to create this picture of what's possible for is central to the coaching process.
Bạn sẽ học được gì
Tìm hiểu 7 bước xác thực và phương pháp thực tiễn để tạo ra bầu không khí nơi mọi người luôn có động lực để đạt được tiềm năng cao nhất của họ. Cộng tác với việc thiết lập mục tiêu và giúp các thành viên trong nhóm có thái độ tích cực để đạt được mục tiêu. Khám phá cách để nhận ra điểm mạnh và cơ hội, đưa ra phản hồi hiệu quả, có hỗ trợ và nhìn nhận đúng đắn.
Lý do bạn cần nó
Huấn luyện tốt là một quá trình tinh vi. Bạn sẽ học cách xây dựng niềm tin để huấn luyện và nhận lại ít chống đối. Bằng cách đặt ra mục tiêu rõ ràng và làm cho các thành viên trong nhóm để mắt đến phần thưởng, họ có thể làm nên điều kỳ diệu với chút hỗ trợ bên lề của bạn.
Mục đích tận dụng
Với quy trình và phương pháp đúng đắn, bạn sẽ thiết lập được tiêu chuẩn cao! Bằng cách đó, bạn sẽ thể hiện sự tự tin vào khả năng của thành viên nhóm và giúp họ nhận ra tiềm năng của họ. Và bằng cách giữ cho họ có trách nhiệm và cung cấp các công cụ và sự đào tạo cần thiết, bạn sẽ tạo động lực để họ đạt được thành công bất ngờ!

Hướng dẫn huấn luyện lãnh đạo