Liderlikte Koçluk Rehberi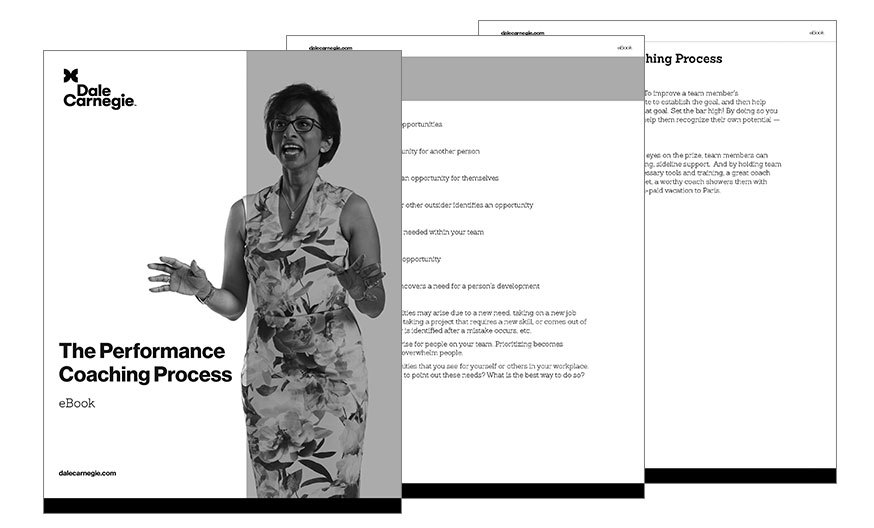 Bu eKitabın Faydası
Today's leaders need skills that inspire and equip teams to evolve to their best — and key among these skills is coaching. One of the most important concepts in coaching is having a vision or end goal in mind; without it, people often lose focus and motivation. How to create this picture of what's possible for is central to the coaching process.
Kendi Kopyanızı İndirin
Ne Öğreneceksiniz
İnsanların en yüksek potansiyellerine erişmek için sürekli motive oldukları bir atmosfer yaratmak için, kanıtlanmış yedi adım ve pratik tekniği öğrenin. Hedef belirlemede işbirliği yapın ve takım üyelerinin bir hedefe ulaşmak için doğru tutumu benimsemesine yardımcı olun. Güçlü yanları takdir etmenin ve fırsatları görmenin, etkin geri bildirimler vermenin ve doğru destek ve takdiri sağlanmanın yollarını keşfedin.
Buna Neden İhtiyacınız Var
İyi koçluk ince ayarlanmış bir süreçtir. Koçluk yapmak için nasıl daha az dirençle güven inşa edeceğinizi öğreneceksiniz. Net bir hedef belirler ve takım üyelerinin gözlerini hedefe kitlerseniz, sizin desteğinizle hedeflerini yüksek tutabilirler.
Bununla Ne yapacaksınız
Doğru süreç ve tekniklerle çıtanızı en yüksek seviyeye çıkaracaksınız! Bunu yaparak, takım üyelerinizin yeteneklerine güven gösterecek ve kendi potansiyellerinin farkına varmalarına yardımcı olacaksınız. Onları sorumlu tutarak ve gerekli araçları ve eğitimi vererek, beklenmedik bir başarıya ulaşmak için motive kalmaya devam etmelerini sağlayacaksınız!