Ghid de Coaching pentru leaderi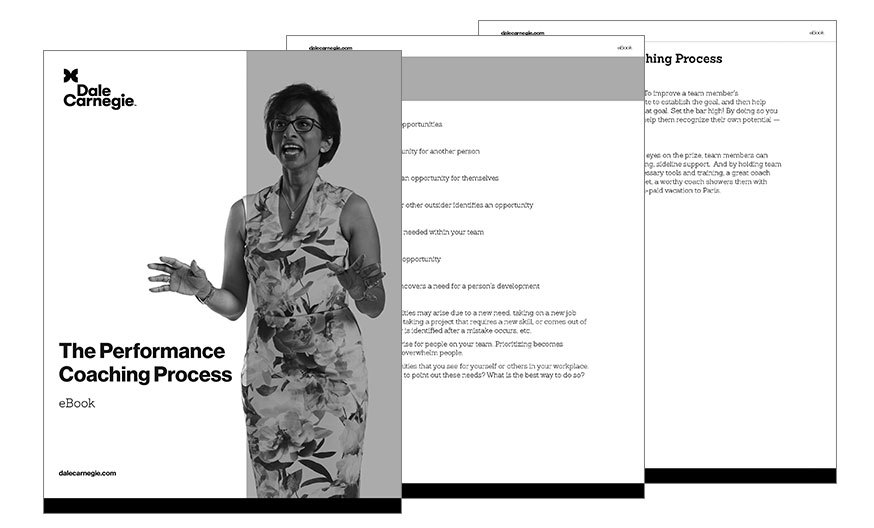 Beneficiile acestui eBook
Today's leaders need skills that inspire and equip teams to evolve to their best — and key among these skills is coaching. One of the most important concepts in coaching is having a vision or end goal in mind; without it, people often lose focus and motivation. How to create this picture of what's possible for is central to the coaching process.
Descarcă-ți exemplarul
Ce vei învăța
Învață șapte pași cu rezultate garantate și tehnici practice pentru a crea o atmosferă în care oamenii sunt motivați în mod constant să-și atingă potențialul maxim. Colaborează în stabilirea obiectivelor și ajută membrii echipei să adopte atitudinea potrivită pentru atingerea unui obiectiv. Descoperă metode de a recunoaște puncte forte și oportunități, a oferi feedback eficient și genul corect de sprijin și recunoaștere.
De ce ai nevoie de asta
Coaching-ul eficient este un proces migălos. Vei învăța cum să cultivi încrederea pentru a avea parte de un proces de instruire cu mai puțină opoziție. Stabilind un obiectiv clar și ținându-ți membrii echipei concentrați pe rezultat, vei reuși să-i faci să se avânte spre cer cu sprijinul tău de pe margine.
Ce vei face cu informația
Având la dispoziție procesul și tehnicile potrivite, vei stabili un standard înalt. Procedând astfel, vei demonstra că ai încredere în abilitățile membrilor echipei tale și îi ajuți să-și recunoască propriul potențial. Iar responsabilizându-i și punându-le la dispoziție instrumentele și pregătirea necesară, îi vei menține motivați să obțină succese neașteptate.

Descarcă acest eBook acum