Guia do coaching de liderança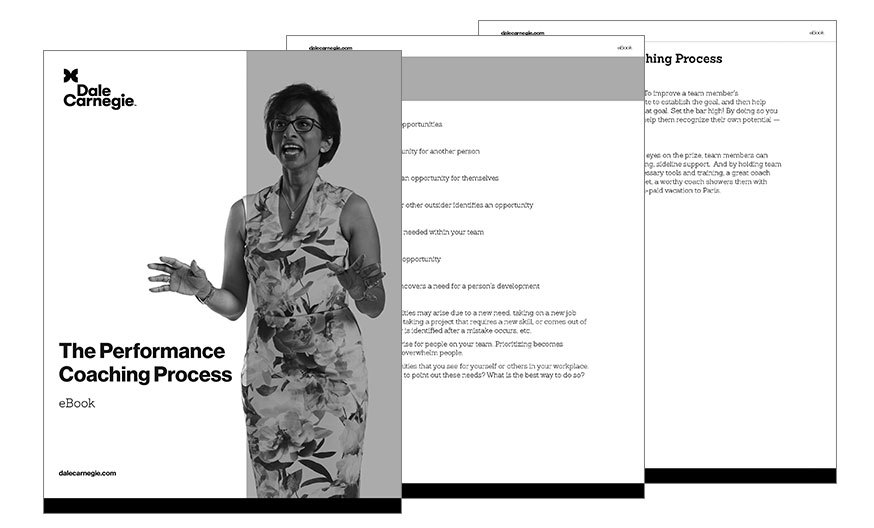 Benefício deste eBook
Today's leaders need skills that inspire and equip teams to evolve to their best — and key among these skills is coaching. One of the most important concepts in coaching is having a vision or end goal in mind; without it, people often lose focus and motivation. How to create this picture of what's possible for is central to the coaching process.
O que você irá aprender
Aprenda 7 passos comprovados e técnicas práticas para criar uma atmosfera em que as pessoas são constantemente motivadas para atingir seu maior potencial. Colabore com a definição de metas e ajude os membros da equipe a adotar a atitude correta para atingir uma meta. Descubra formas de reconhecer pontos fortes e oportunidades, dar feedback efetivo e proporcionar o tipo certo de suporte e reconhecimento.
Por que você precisa disso
Um bom coaching é um processo bem sintonizado. Você vai aprender a construir confiança para aplicar coaching com menos resistência. Definindo um alvo claro e mantendo os olhos dos membros da equipe no prêmio, eles podem mirar o céu com seu suporte ao lado.
O que você vai fazer com isso
Com os processos e as técnicas certas, você vai colocar a barra lá no alto! Ao fazer isso, vai mostrar confiança nas capacidades dos membros da equipe e ajudá-los a reconhecer o próprio potencial deles. E mantendo neles o senso de responsabilidade e fornecendo as ferramentas e o treinamento necessários, você vai mantê-los motivados para atingir sucesso inesperado!