Dale Carnegie's Secrets of Success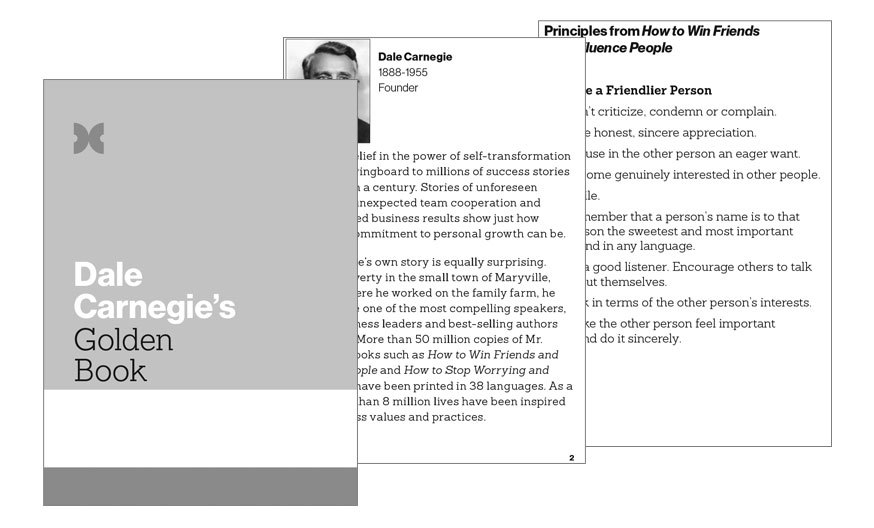 Benefit of this eBook
Er werden al meer dan 50 miljoen exemplaren van Dale Carnegie's boeken zoals "Hoe je vrienden maakt en mensen beïnvloedt" en "Leef gelukkig zonder zorgen" verkocht, en meer dan 8 miljoen mensen geïnspireerd door zijn tijdloze waarden en methoden. Een veelheid aan gouden tips wijzen je de richting naar onvoorstelbaar succes. Pas deze tips toe en munt uit als leider en wordt de beste versie van jezelf.
What You'll Learn With It
De principes uit "Hoe je vrienden maakt en mensen beïnvloedt" tonen je hoe je anderen beïnvloedt om je visie te steunen. Ontdek 9 technieken hoe je relaties kan verbeteren, en basistechnieken om een gerespecteerde leider te worden. Tips om met kritiek en stress om te gaan, geven je de vrijheid om door te gaan met nieuwe ideeën en sterkere relaties.
Why You Need It
Dale Carnegie verbetert de prestaties van individuen en bedrijven overal ter wereld, al meer dan 100 jaar. Hoewel onze trainingstechnieken steeds weer evolueren, blijven onze kernprincipes trouw aan één enkele visie: echte transformatie begint vanbinnen. Ooit begonnen als het geloof van één man in de kracht van zelfverbetering, inspireert Dale Carnegie nog steeds de kracht van elk individu door het potentieel van elke persoon aan te boren.
What You'll Do With It
Terwijl je deze tijdloze principes toepast, munt je uit als leider en krijg je het vertrouwen en respect van de mensen om je heen. Breng positieve verandering op gang door jouw heldere en vindingrijke medewerkers op de voorgrond te plaatsen. Door mensen van jouw manier van denken te overtuigen en stress te reduceren, zet je teams in beweging en help je de hele organisatie om nieuwe hoogtepunten te bereiken.

Dale Carnegie's Secrets of Success