The Performance Coaching Process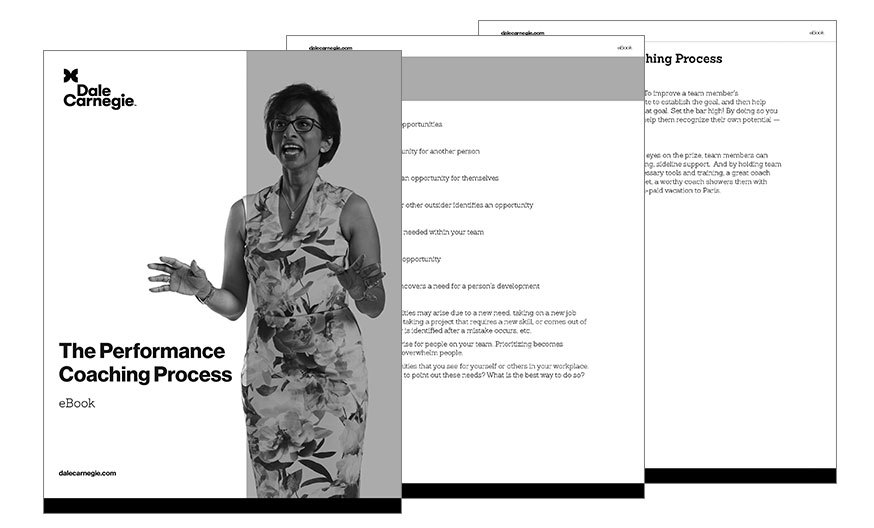 Benefit of This eBook
Today's leaders need skills that inspire and equip teams to evolve to their best — and key among these skills is coaching. One of the most important concepts in coaching is having a vision or end goal in mind; without it, people often lose focus and motivation. How to create this picture of what's possible for is central to the coaching process.
Whitepaper 다운로드
What You'll Learn
사람들이 최상의 잠재력을 이끌어낼 수 있도록 꾸준히 동기부여 될 수 있는 분위기를 조성하게 해주는 7가지 검증된 단계와 실질적인 기법을 교육합니다. 목표설정 단계부터 협력하여 팀원들이 목표를 향해 바른 태도를 가질 수 있도록 돕습니다. 강점과 기회를 파악하고 효과적인 피드백을 해주며 적절한 지원과 인정을 하는 방법을 훈련합니다.
Why You Need It
훌륭한 코칭은 조정단계를 거친 프로세스입니다. 저항을 최소화하고 신뢰를 바탕으로 코칭하는 방법을 교육합니다. 타겟을 정확하게 설정하고 팀원도 타겟에 집중하도록 하여 여러분의 측면지원없이도 타겟목표를 성취할 수 있도록 하기 위함입니다.
What You'll Do With It
올바른 프로세스와 기법을 활용하면 목표를 높게 설정할 수 있습니다. 이 프로세스에 따라 팀원 역량에 대한 여러분의 믿음을 보여주고 그들이 지닌 잠재력을 스스로 인정할 수 있도록 하는데 도움이 됩니다. 직원들이 책임감을 갖게 하고 필요한 지원이나 교육을 제공하게 되면 기대하지 않은 성과를 낼 수 있도록 직원들을 지속적으로 동기부여해줄 수 있습니다.