The Performance Coaching Process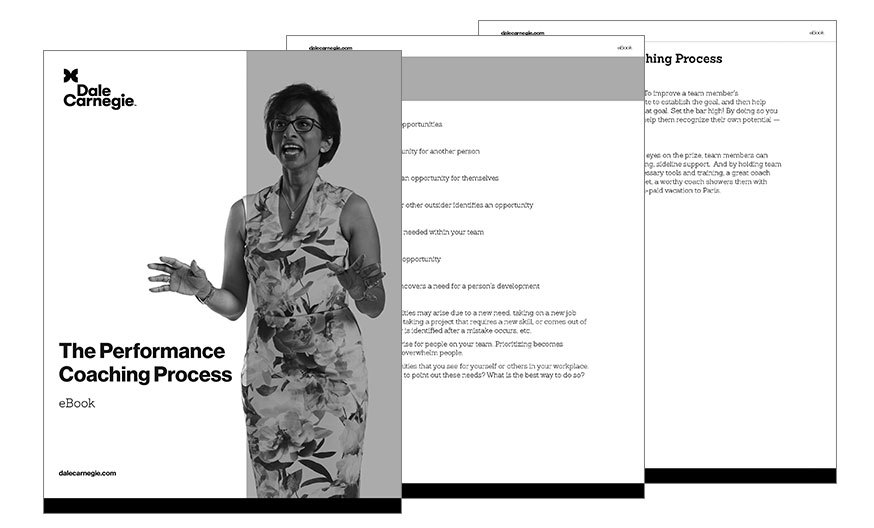 Manfaat eBook ini
Today's leaders need skills that inspire and equip teams to evolve to their best — and key among these skills is coaching. One of the most important concepts in coaching is having a vision or end goal in mind; without it, people often lose focus and motivation. How to create this picture of what's possible for is central to the coaching process.
Unduh
Apa yang Anda Akan Pelajari
Pelajari tujuh langkah yang telah terbukti dan teknik praktis untuk menciptakan suasana di mana orang secara konsisten termotivasi untuk mencapai potensi tertinggi mereka Berkolaborasi dalam penetapan tujuan dan membantu anggota tim mengadopsi sikap yang benar untuk mencapai suatu tujuan. Temukan cara untuk mengenali kekuatan dan peluang, memberi umpan balik yang efektif, dan menyediakan dukungan dan penghargaan yang tepat.
Mengapa Anda Membutuhkan Ini
Pembinaan yang baik adalah proses yang disesuaikan dengan baik. Anda akan belajar bagaimana membangun kepercayaan kepada pelatih dengan penolakan yang lebih rendah. Dengan menetapkan target yang jelas dan menjaga mata anggota tim pada manfaat, mereka dapat berprestasi tinggi dengan dukungan Anda di sampingnya.
Apa yang Anda Akan Lakukan Dengannya
Dengan proses dan teknik yang tepat, Anda akan menetapkan standar yang tinggi. Dengan begitu, Anda akan menunjukkan keyakinan pada kemampuan anggota tim Anda dan membantu mereka mengenali potensi mereka sendiri. Dengan meminta mereka bertanggung jawab dan menyediakan alat dan pelatihan yang diperlukan, Anda akan membuat mereka termotivasi untuk mencapai kesuksesan yang tak terduga!

Dapatkan eBook Ini Sekarang