Enhancing Employee Engagement: The Role of the Immediate Supervisor,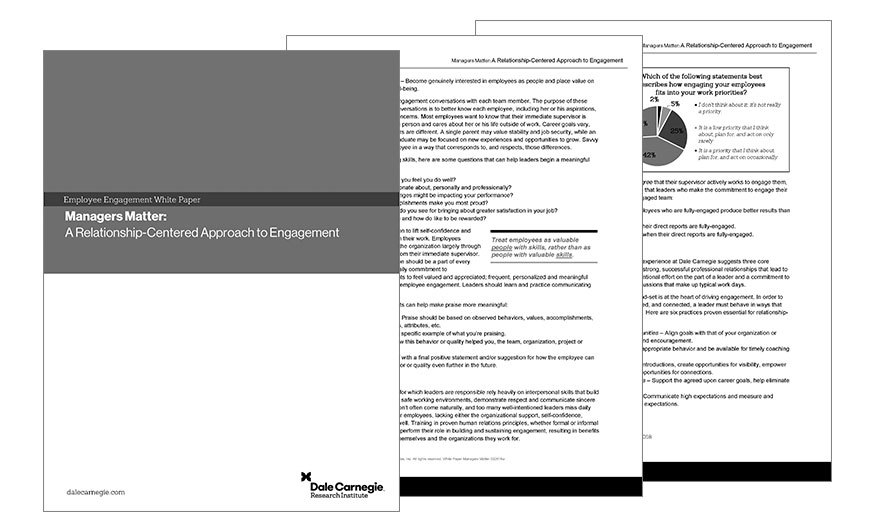 Manfaat White Paper ini
Keterlibatan berarti karyawan yang bahagia dan loyal, serta pelanggan setia dan bahagia. Keterlibatan mengarah pada perbaikan tingkat retensi dan dampak terhadap profit. Mengetahui bagaimana atasan langsung bertindak sebagai katalis untuk keterlibatan karyawan memungkinkan Anda memanfaatkan peluang ini untuk meningkatkan keterlibatan karyawan, dan dampak pada hasil akhir.
Unduh
Apa yang Anda Akan Pelajari
Atasan langsung melakukan peran yang sangat penting. Pelajari bagaimana memberdayakan atasan langsung untuk mempengaruhi investasi yang dilakukan organisasi pada orang-orangnya. Temukan cara untuk merubah karyawan yang tidak terlibat (disengage) menjadi terlibat penuh (fully engage) melalui atasan langsung yang menunjukkan kepemimpinan yang kuat dan mendorong lingkungan kerja yang positif.
Mengapa Anda Membutuhkan Ini
Karyawan tidak meninggalkan perusahaan, mereka meninggalkan orang. Transformasikan para pemimpin menjadi orang-orang yang tidak ingin ditinggalkan oleh bawahannya. Dengan langkah-langkah praktis, dan beberapa kecerdasan emosional, atasan langsung bisa menjadi kunci untuk menggerakkan motivasi, semangat kerja, dan kepuasan karyawan ke tingkat baru bersama dengan tingkat retensi, skor kepuasan pelanggan, dan pendapatan perusahaan.
Apa yang Anda Akan Lakukan Dengannya
Atasan langsung memengaruhi investasi yang dibuat oleh sebuah organisasi di karyawannya. Meningkatkan keterlibatan karyawan melalui tindakan atasan langsung meningkatkan retensi dan mengurangi absensi. Ia mengubah antusiasme rendah menjadi keterlibatan penuh, menarik dan memelihara baik karyawan maupun pelanggan.

Dapatkan White Paper Ini Sekarang