Vezetői coaching kisokos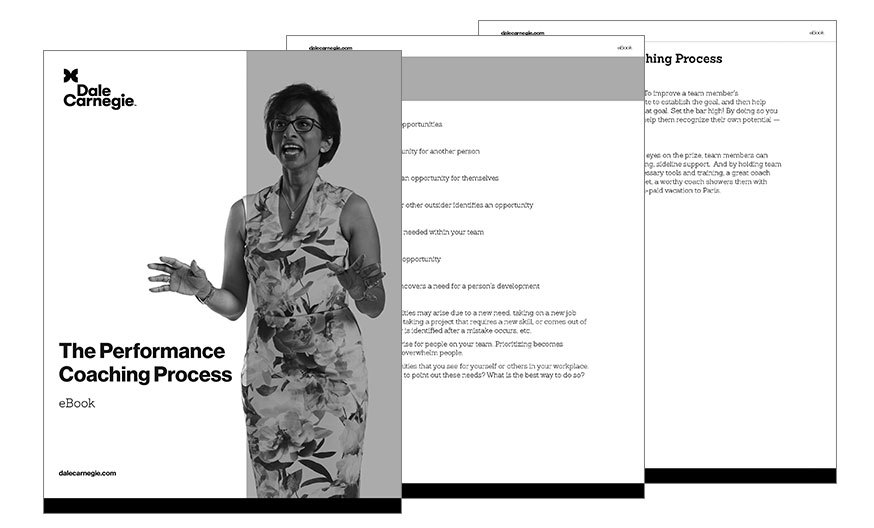 Az e-könyv konkrét haszna
Today's leaders need skills that inspire and equip teams to evolve to their best — and key among these skills is coaching. One of the most important concepts in coaching is having a vision or end goal in mind; without it, people often lose focus and motivation. How to create this picture of what's possible for is central to the coaching process.
Töltse le a tanulmányt!
Amit tanulni fog
Tanulja meg azt a 7 lépcsős, praktikus és már bizonyított módszeren alapuló motivációs technikát, melynek eredményeként az emberek folyamatosan a legtöbbet hozzák ki önmagukból az egyéni és vállalati célokért dolgozva. Támogassa az egyéni célkitűzéseket és segítsen a csapattagoknak, hogy elérjék a céljaikat. Ismerjen meg különböző módszereket, melyek megmutatják az egyén erősségeit és a fejleszteni érdemes területeket, nyújtson hatékony visszajelzést és biztosítsa a munkatársait a személyes támogatásáról.
Amiért szüksége van erre a tudásra
A jó coaching egy nagyon finomra hangolt folyamat. A bizalmi légkör létrehozása leegyszerűsödik a jó coachinggal. Tiszta és elérhető célok kitűzésével a csapata motivált lesz és teljes erővel bedobja magát, hogy elérje a kívánt eredményeket.
Amire használni fogja a tudást
A helyes technikák és coaching folyamat használatával Ön magasra tudja helyezni a lécet a csapata számára! Amikor ezt megteszi, a munkatársai azt fogják érezni, hogy képesek a nagyobb ugrásokra is. Azzal pedig, hogy folyamatosan nyomon követi a fejlődési ívüket és közben végig szakértő támogatást nyújt, a munkatársak motiváltak maradnak a célok eléréséig!

Töltse le a könyvet most!