Guide du processus de coaching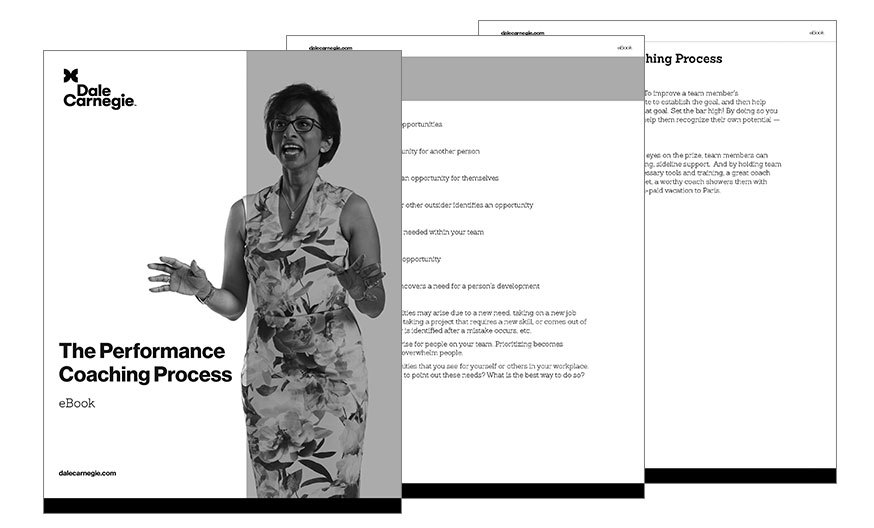 Intérêt de cet eBook
Today's leaders need skills that inspire and equip teams to evolve to their best — and key among these skills is coaching. One of the most important concepts in coaching is having a vision or end goal in mind; without it, people often lose focus and motivation. How to create this picture of what's possible for is central to the coaching process.
Ce que vous apprendrez
Apprenez sept étapes et techniques éprouvées pour créer une atmosphère qui encourage constamment les individus à atteindre leur plus haut potentiel. Collaborez à l'établissement d'objectifs et aidez les membres de l'équipe à adopter les bonnes attitudes pour atteindre un objectif. Découvrez des méthodes pour reconnaître les forces et les opportunités, donner un feedback et fournir le type adéquat de soutien et de reconnaissance.
Pourquoi vous en avez besoin
Le bon coaching est un processus bien réglé. Vous apprendrez à établir la confiance pour coacher avec moins de résistance. Fixez un objectif clair et maintenez l'attention des membres de l'équipe sur le prix. Ils se lanceront dans la course avec enthousiasme en sachant que vous êtes là pour les soutenir.
Quelle utilité pour vous
Avec les bons processus et techniques, vous mettrez la barre très haut ! De cette manière, vous montrerez votre confiance en l'aptitude des membres de votre équipe et les aiderez à découvrir leur propre potentiel. Et en leur donnant des responsabilités et en leur fournissant les outils et formation nécessaires, vous leur apporterez la motivation d'atteindre des succès inattendus !