Cómo liderar un ambiente de trabajo multigeneracional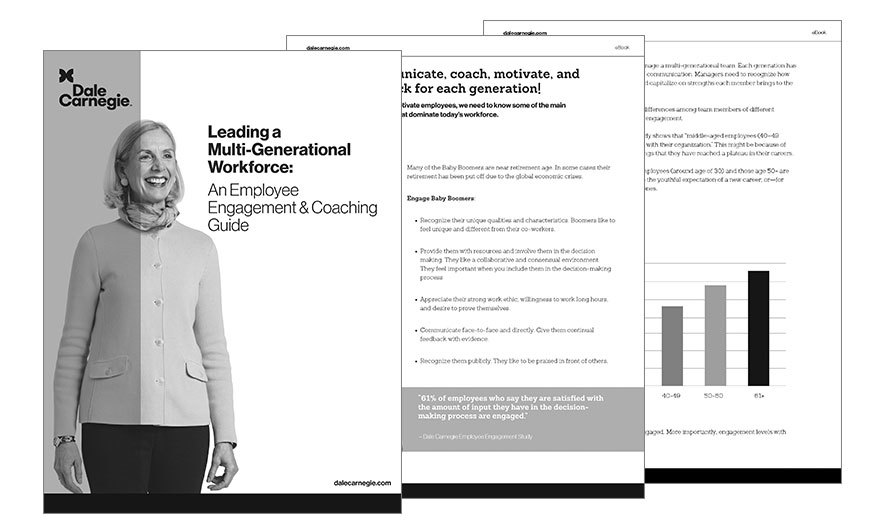 Beneficio de este eBook
De acuerdo con el estudio de Dale Carnegie Training sobre el compromiso "Los colaboradores están más comprometidos cuando sienten que su gerente inmediato proyecta un liderazgo fuerte, estándares positivos e interés en ellos en un nivel personal ". Este libro electrónico está diseñado para enseñarte lo que mueve a cada generación para que les puedas brindar de forma efectiva la atención personal que necesitan. Es vital conocer cómo comunicar, dar coaching, motivar y proporcionar feedback a cada generación.
Descargar tu copia
Lo que aprenderás
You will be guided through a brief analysis of what motivates each generation in today's workforce, from Baby Boomers, to Generation X, to Millenials. Each generation has its unique mindset, work style, and ways of communication. Mastering ways to motivate team members individually will enable managers to capitalize on the strengths that each member brings to the team.
Por qué lo necesitas
Dale Carnegie Employee Engagement Study shows that "middle-aged employees (40–49 years) are less engaged or are disengaged with their organization." Conversely, the study found that "young employees (around age of 30) and those age 50+ are more engaged." At least 66% of the employees are not fully engaged, and that needs to be addressed!
Lo que harás con él
Understanding ways to motivate your multi-generational team members will create a more cohesive, productive, and happy workplace. Happy team members bring positive results. And that translates to an improved bottom line!